Monday, April 25, 2011 - 10:04 am
This weeks Supermom Chrissy Glenn from MamaslittleHelper.org. Chrissy has one daughter preschool and also has a fantastic career. She runs her own website MamasLittlehelper.org which is a online friend for parents telling them where to take there kids in the Pa and NJ area. Also Chrissy manages companies online presence at YourlocalBlogger.com giving them a voice on all social media and communities. She truly is a Supermoms who deserves a superhero mom cape.
So here is Chrissy's video interview of why her daughter are super.
Be sure to follow Chrissy on twitter.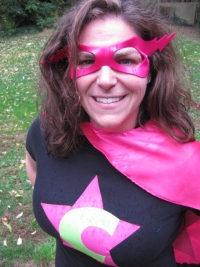 All the moms being featured have a learned to juggle being a mom with life/work balance and still have superhero kids. If you would like to answer the question in a video of why your kids are super let me know.
Be sure to like our Facebook page to hear about more supermom talk about there superhero kids