Thursday, October 07, 2010 - 8:05 am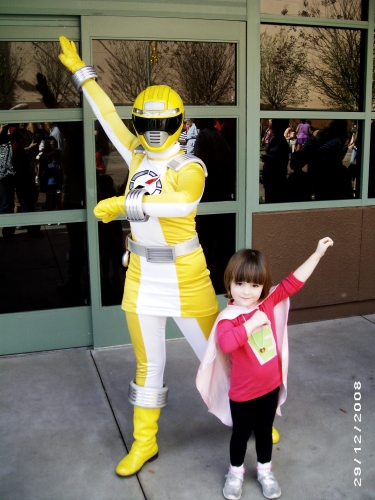 Superhero costumes, pink power ranger, and one happy little girl
Dear Pink Power Ranger,
My name is little Babypop I am 3 years old. And I like the pink power ranger. I met you at Disney and I love you are the best power ranger in the power ranger world I was dress as a superhero princess. You are so beautiful.
I love you.
I want to ask you a questions, do you love pink. I am being a pink power ranger too. I want to tell you I liked meeting you Pink Power Ranger and I love you so much,
I sending you picture of me and you at Disney and a picture I colored.
You make beautiful butterflies with your power.
Do you want to come to my house pink power ranger you can bring your power ranger car to my house. Do you know the way to our house from Disney ? I will send you a map so you can come to my house. I will show you my dress up clothes.
I want the yellow, blue and all the power rangers to come. You can drive the cars or motorcycle. You can play with me and my brother and have dinner with us.
If you want to come to my house you can call me, you can figure out my phone number
I love you my mom loves, my brother, dowg, and cat loves you. My cat is so so nice and my dowg is so so nice too. They won't bite you.
I love you please come to my house please please please.
Say to yellow and blue power ranger..i love you all sosososo much

Please write back to me pink power ranger. I live in Philadelphia PA
Love,
Little Babypop
age 3