Thursday, September 16, 2010 - 1:27 am
A very old and dear friend returned to me today. I was seven years old when we met. My mother took me to the Sears Roebuck store for classes.
I sat quietly and listen to everything the teacher said. "This is the pressure foot" "this is the feed dog" "this is the hand-wheel."
I absorbed everything the teacher said devouring it like a starving animal. There she sat my new best friend, future, life long buddy. She was cream color, had brown features, a long arm and short throat. Her name was Ken More. She zig zags and had wonderful straight.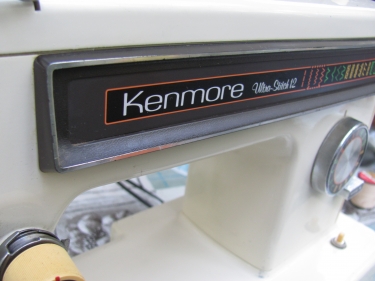 She is a 1978 Kenmore 12 stitch $129 Christmas special (and yes sewing machines, are girls I not sure why? but they just are like cars, they have pedals.) My mother gifts from my father, so we (the 2 daughters) could learn to sew. My first real project: was a great polyester pink and grey hounds tooth dbl knit skirt, no pattern needed.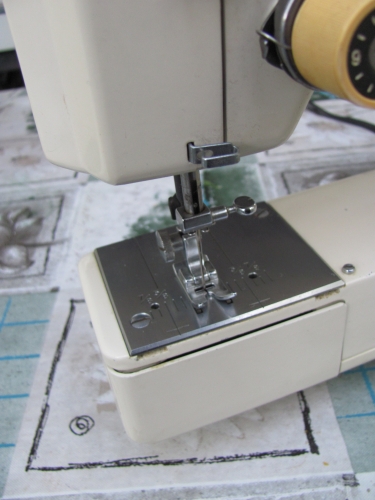 As I look at this old yellowed machine.. I am crying because this machine change my life. As a child it was a future and as adult it is who I am who I became.
By the time I was 10, I sew a lot. I made dresses, skirts, and pants. I designed with my Kenmore. When kids were mean and cruel, I found comfort behind my sewing machine. It was "my thing", my place to dream and believe I could make anything behind this machine. My ability to sew made me different and special. People where in awe of what I could do. I could make anything from fabric. Kenny, gave me confidence, self-respect and independence.
By the time I was 15 I was making bathing suits. At the age of 16 when most girl got cars or pearls, I asked for a serger (fancy sewing machine to finishes edges.) I made spandex pants and plastic dresses. I worked in a sewing/fabric store at 16 so I could get a discount on my fix aka fabric.

My high school graduation, you guessed it , I asked for a another sewing machine not to replace Ken Moore but for more features. I left for Fashion Design school Kenny was my companion, making me unafraid of what was to come. She worked late nights and never asked for coffee. I created my senior collection with her. When the other machines could not handle the stress of heavy duty ski wear fabric Kenny was there. When I won best senior collection, at College I remember thinking "it is Kenny my workhorse I must thank." So I gave her some oil when I got home.
But then age 22, I joined the work world and as my career developed; the less I sewed. But the more I told other people how to sew. My career grew and so did my knowledge of sewing garments allowed me to achieve success. During a move to Florida for a Job, poor Kenny was then passed to my sister to use and I never hear from her again…
14 years passed I left my corporate life to start my new role as stay at home mom. It was scary, What about money leaving my big corporate job? I knew I could sew, so I knew all would be fine, with my god given talent would provide. Once BabyPop, was born I creating a new dream for myself as an entrepreneur. I could support my family with my sewing… back where I started. Even now I find great solace and peace behind a machine it quiets the noise and I am home in "the Zone."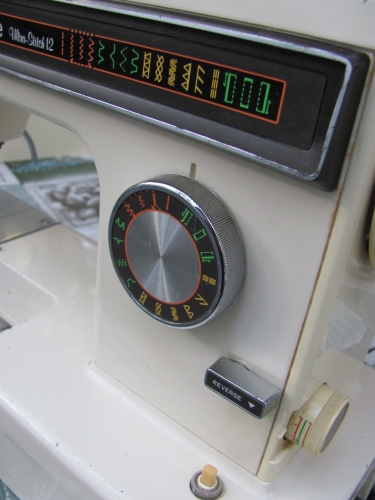 So yea tonight, when 20 years after our separation, my Kenmore Ultra Stitch 12 is returned to me (covered in grime and some yuk green stuff (ew).
When My dad asked "I don't know if you want this machine I can throw it out".
Without hesitation I said "No I will take her". As I clean her off and cried because she has been missed… "Welcome home you confidante and dream creator. Welcome home…. It is time to meet the kids."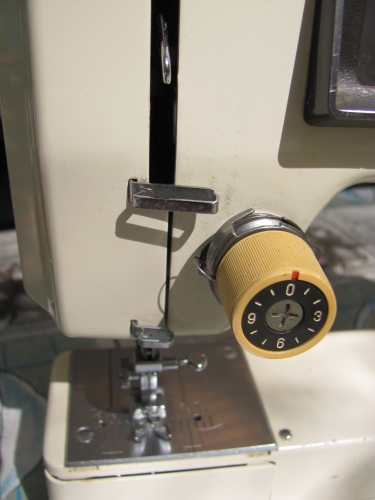 By the way my husband already said "no you can't sleep with The machine tonight."