Wednesday, April 06, 2011 - 11:18 pm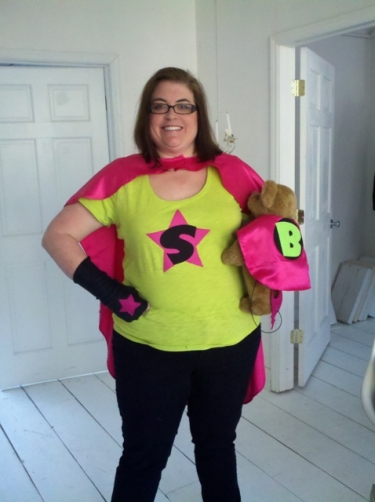 BabyPop and my adventure with INC. Magazine photoshoot. So about a month ago I was invited by Tanna of Luv Honor UpCycle to go to New your for a Inc. Magazine photoshoot for etsy seller. So at 9:00am I headed to New York on a bus with Tanna and some other wonderful Philadelphia Based etsyians. Please do not judge the superhero adult costume so yes I was the only etsy seller int he room wearing a hot pink superhero cape and mask.
I wanted to introduce you to the following photo shoot travel companions.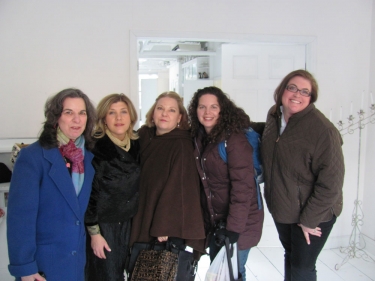 Tanna Pardis Love Honor UpCycle make lovely handmade mixed with vintage jewelry wedding hair accessories. It makes me almost want the get married again so I can where one.
Diane DOlivaJewlery she make great beaded jewelry and barrettes . I had fun buy from her on the bus.
Jan Cohen of Janzibar,- Jan makes the wonderful gloves I fell in a love with a tosty pair which have kept my hands warm all winter while waiting to pick the kids up from school.
And Alison Ostertag who is a fantastic Photographer check out her etsy store and her photos on flickr of her shots from Garys Loft (penthouse) in NYC. I did I not even notice that we could see the empire state building through the penthouse sky lights till I looked at Allison pictures.
It was a lot of fun in the city not only did we get out picture taken by Inc. Magazine but the location was amazing.
Afterwards we headed to get something to eat then off the FIT to see there museum collection. One was on Japan inspired fashion. Loved it.
It was a super fun day. I was hoping that something would come out of it. so I wait and waited. Like someone waiting for a baby to come. The magazine came out, it is an article about etsy founder. The did in clued many etsyians in a 1"x1" picture.. that is me in the mask.
Then this week I get a tweet from someone saying they Like me in the INC. Magazine etsy video. So I looked and I found it. The video is on the bottom of the article. I was super excited and happy to be featured. Thank you Max Chaffin for including me in the video.