Friday, November 05, 2010 - 7:54 am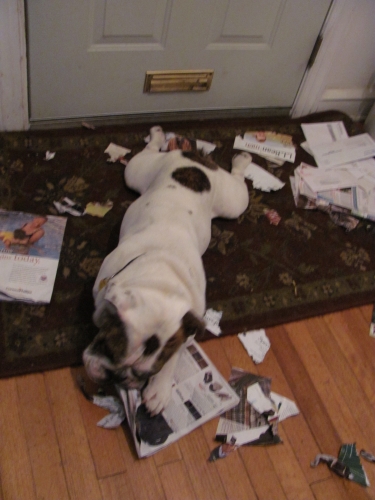 These are the top 10 things I wish someone told me prior to getting a English bull dog. So about a year a dog Christmas we adopted a dog. To our misfortune.. he is a overpaid for to the tune of $2500 for this English bull dog, thank god we did not pay that. Now let me tell you about the difference between a English and old English bull dog they are different. All bull dogs come from the English variety according to some tv show I watched about the genealogy of dogs. The English bull dog was there case in point of what can happen when a dog is over engineered …lets face it they are a genetic nightmare. The English is short and squat with a really pushed in nose. The Old English was breed to avoid the issues the English has so they are taller with a longer nose. Of course mine is the English… My Irish friend calls him a British bull dog … well quite frankly I like that name way better.

Let me tell you the 10 ten reason you will love to hate your English Bull dog:

1- The snore! I don't mean at night when they sleep like a pug.. all the time, non stop, you will be blasting your TV to hear it..
2- He makes noses all the time not only snoring but gross slurping sounds , or garbling sounds, cleaning your nose sounds..along with tons of other talking whining sounds
3- They are Neurotic. I use to think it was just ours… no everyone I talk to says that their roll pollie dog is the same
4- My dog Grundy is a Cinderblock with teeth- 60 lb of raw muscle with alot of teeth.. but it is playful dog until he gets you by accident during play time.
5- Some like mine you have to clean there butt. I am using more baby wipes now than when my kids were babies.
6- Food always hungry- I am convinced he will eat himself to death if given the chance he once age 6lb of cat food.. not a pretty sight.
7- They have explode a butt. When over fed they can't handle it because they are a small dog that is solid muscle and they poop every where. Mine only eats a cup morning and night. You have been warned.. No matter how much he asks do not over feed.
8- They whine more than a 8 year old girl. He whines at me if he wants on my lap or go out or just to be a pain
9- They will destroy a toy in less than 5 minutes.. all that muscle energy has to go some where .. Mine does not chew in the house but the kids toys in the backyard were all fair game. I say were because now we have none
10- They are not a protector, in less you can fit through my mail slot.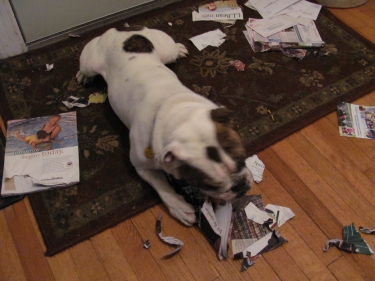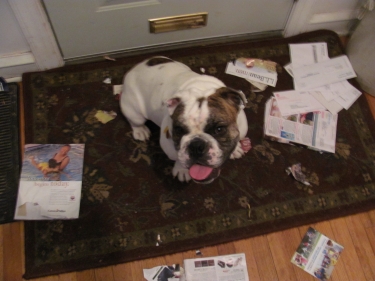 So what are your dog stories?