Sunday, August 04, 2013 - 3:44 pm
Kids Superhero Capes great gift for kids. Nothing makes a child dream more then saying they can be and do what every they want. Let your child be the superhero they want to be wearing a superhero cape. We love making kids to superheroes, each kid is their own superhero. Babypop capes are washable and allow your kids to imagine and dream.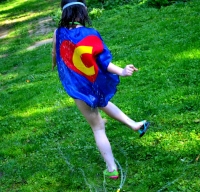 These girls are loving running through a sprinkler with their capes as the water chases them. The are saving the backyard from all that lurks. Superhero capes give them the powers they already have. Babypop capes ship in 7-10 business day and are complete customizable. So what is your childs favorite superhero? Make them be there own.
These capes are great for play, family photos,and parties. We also make them for the entire family.
So be sure to stop by our store and let me make your kids into their own superheros.